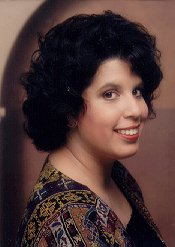 So, this is me, Valerie; happily married, homeschooling mother of two, freelance writer and speaker, and, basically, one tired woman.

Doing this column, one would assume that I was a serious, solemn, even grave person. But, that doesn't define me at all. I am usually too ready to laugh, I love the Dilbert comic strip, and when I am near a TV (we don't have one) I watch Home Improvement. I can imitate almost anyone's voice, from Elmo of Sesame Street fame (for my kids) to Elvis "He's Been Spotted Again" Presley (for my mother in law). And if you think I will put those on a .wav file, you must be dreaming!

HOME / HANDMAIDN / TESTIMONY / WHO IS VALERIE DUFFY? / SIGN the GUESTBOOK / INDEX of ARTICLES / KIDS LINKS / MEDIA LINKS / MINISTRY LINKS / MISCELLANEOUS CHRISTIAN LINKS / POTATO/POTAHTO / COOL SECULAR SITES / JUST the FAQs / S FILES / SEND US MAIL!